Tetxtreme continues development
---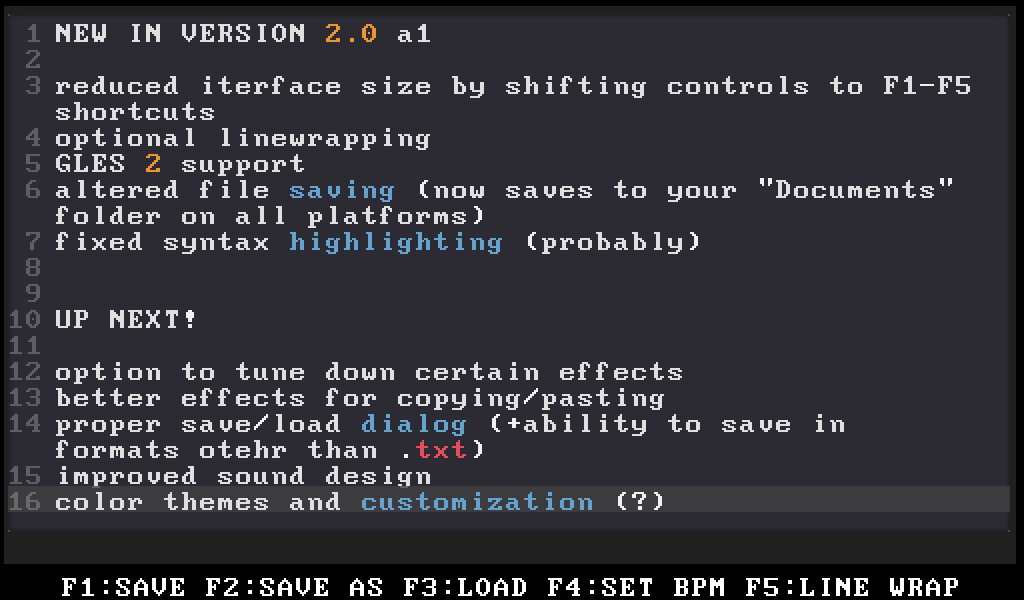 This is not the end of development, just wanted to publish what's already done so that you dont have to wait for too long
Files
TEXTREME Windows 2019
10 MB
Jun 13, 2019
TEXTREME Linux64 2019
12 MB
Jun 13, 2019
TEXTREME Linux32 2019
12 MB
Jun 13, 2019
Comments
Log in with itch.io to leave a comment.
hey, can you import music for rhythm mode?
nah, it just does the beat thing at your chosen bpm and that's about it
Hi there!
I really like it. There is a way to change the default fontsize?
im pretty sure there was an option of making it bigger and smaller in powers of two at some point, if ctrl+'+' and '-' dont work then i have no idea how to do it, sorry.
Hello! I've been following the development eagerly on Twitter and I see there are some awesome updates coming up :)
I was wondering, though - I don't know if it would be possible but could we still have access to the simplier interface from the current version? (No hate for the lighter colors and animated animals, but I loved the simplicity of the previous one). And I'm still curious if this will have paragraph support or not. I'd love to use it for my creative writing, but having to put the finished text in another editor to add breaks and formatting is kind of a pain lol!
Thanks for reading and I look forward to checking out the new version!
Hello, remaking the editor entirely to look simpler may not be in our scope but we will consider adding options to customize it to be closer to what you want. We are also planning on adding an optional darker color scheme. I'm not entirely sure about what you mean by paragraph support, the new version has autowrap of lines that are too long on by default but this does not create linebreaks. If that is something you need we'll consider adding it in a later update. At the moment we are planning on getting the editor into a ready state and releasing it to help some team members financially without unnecessary delays. We will likely be actively working on updating it with requested optional features while we have worthy ideas and the possibility to do so.
Yeah, it's linebreaks I mean, sorry! When I export a text file after writing it always comes up without line breaks for some reason.
I can't wait to support this once it's out! Fingers crossed it all goes well! Good luck! :)
can you make it work with unity. that's honesly what I want it for
this is super cute, I love it!
I get a "Failed to load custom syntax" message in OSX, even if the syntax.txt is in the same directory as the application package.
Great work! Making our everyday tools more interesting is exciting. Would love to see an audio mute/unmute option!
EXCELLENT WORK THIS IS A VERY GOOD TEXT EDITOR
(I WROTE THIS COMMENT IN IT AND THEN PASTED IT IN I AM HAVING A LOT OF FUN HAHA!!!)